Reading is an extremely powerful educational tool.  It is beneficial to us all, adults and children alike.
It is a fact reading can be beneficial to our lives as adults both personally and professionally. But what are the effects of reading on our children?
As adults, we learn new things when reading. We improve our communication skills, our vocabulary, and learn the correct usage of language in our daily lives.
Children learn in the same way.
Though the benefits of reading may not be visible or may not be noticed right away we all benefit.
What Are 5 Benefits of Reading for Children as they Grow Older?
Intellectual Development
Reading is beneficial to a child's intellectual development.
Reading with a young child helps them develop a love for the written word as well as sharpen their abilities and master the written language.
As children grow older, they will begin to read on their own and will read books that stretch their minds.
Children will not only read books that deal with subject matters they discuss in schools such as science, social studies, and math but will read fiction as well.
Reading can open a child's mind to different possibilities, help them become creative, and helps their imaginations soar.

Social Development
Reading is beneficial to a child's social development.
A child who reads will be exposed to many things as well as many people.
They will grow with their peers, attend school with their peers, visit the library with their family and peers, and read about people and societal changes.
Children will read about their local communities, the state they live in, and their country.  They will begin to learn and apply those things in social settings.
Children who become involved in book clubs or start collecting their own books early will progress much more quickly than children who do not.
Emotional Development
Reading is beneficial to a child's emotional development.
Reading can expose children to different life situations they can learn from and use in the future.
When children are confronted with a similar situation in the future, such as dealing with strangers or learning new skills they will be able to properly deal with those situations because they read about it before and have the knowledge to help in the situation.
Most often parents or teachers have discussed many of these situations with children, so they are emotionally ready to cope or deal with those situations they have read about.
It is true that experience is the greatest teacher but reading books is undoubtedly a good way of learning about certain life situations in advance.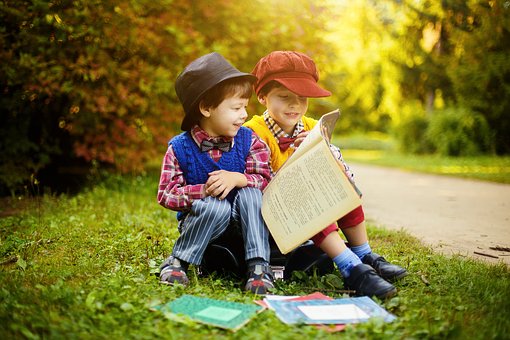 Analytical Development
Reading helps children develop analytical skills.
Children who read will be far above their peers because they have learned from all the things they have read.
It is good to have your child or children read a variety of books.  Children will develop a sense of what they enjoy or like doing.
If children only read fiction, then their imaginations will grow and that is not a bad thing, but if they read how-to books and other non-fiction books this helps them to grow intellectually and analytically as well.
Reading inspirational or motivational books can help instill in children the belief that they can do things, even against the odds.
Reading age-appropriate mystery books can help children develop analytical skills as they try to figure out or solve a mystery.
When I was between 10-12 years of age, I loved Nancy Drew Mysteries and the Hardy Boys.   Reading those books helped me to figure out who committed petty theft or whatever mystery there was.
Improved Writing Abilities
One lasting benefit of reading is the improvement of a child's writing ability as he or she grows older.
A child's writing skills can be improved by exposing him or her to correct and formal usage of language through reading published books.
Through reading, children master a language subconsciously which is the best method for learning anything.
Sometimes, good speakers talk but would not know how to construct well-written sentences.
A person who is good at writing is also generally good at speaking. Those who are good writers and good speakers are most certainly ones who read and learned from books.
When children are young, a parent should start them out with age-appropriate books and move on to harder books as they grow older.
Allowing a child to choose the books they are interested in helps to instill a love of reading and they, in turn, will grow to read more and more as they grow older.
You can get children interested in reading by having the entire family read together, join a book club, or go to the library together.
Continue to encourage your children to read a variety of books as they grow older and you will see amazing results in their reading abilities as well as their understanding, speaking, and writing skills.
Pin for Later or Share!