Name: Blinkist
Price: 7-day Free Trial; $15.99 per month or $99.99 per year if paid annually
Price Rank: 4.8 out of 5.0
What is Blinkist?
Remember when you were in high school and you either didn't want to read the book your English teacher had assigned or you were a procrastinator and waited until the last minute to read the book and do your report? I did this a lot and so did my friends.
Enter CliffsNotes!!
We all used them at one time or other.  In fact, at one point my English teacher said, "and don't use CliffsNotes, I can tell."
Bummer!!
I consider "Blinkist" the electronic version of CliffsNotes.
Blinkist is a reading app that can be easily downloaded to one of your devices (i.e. iPhone, iPad, Android, etc.) and away you go.  You will be able to read hundreds of non-fictional topics called "Blinks."
After you set up an account, you can access everything from your computer too.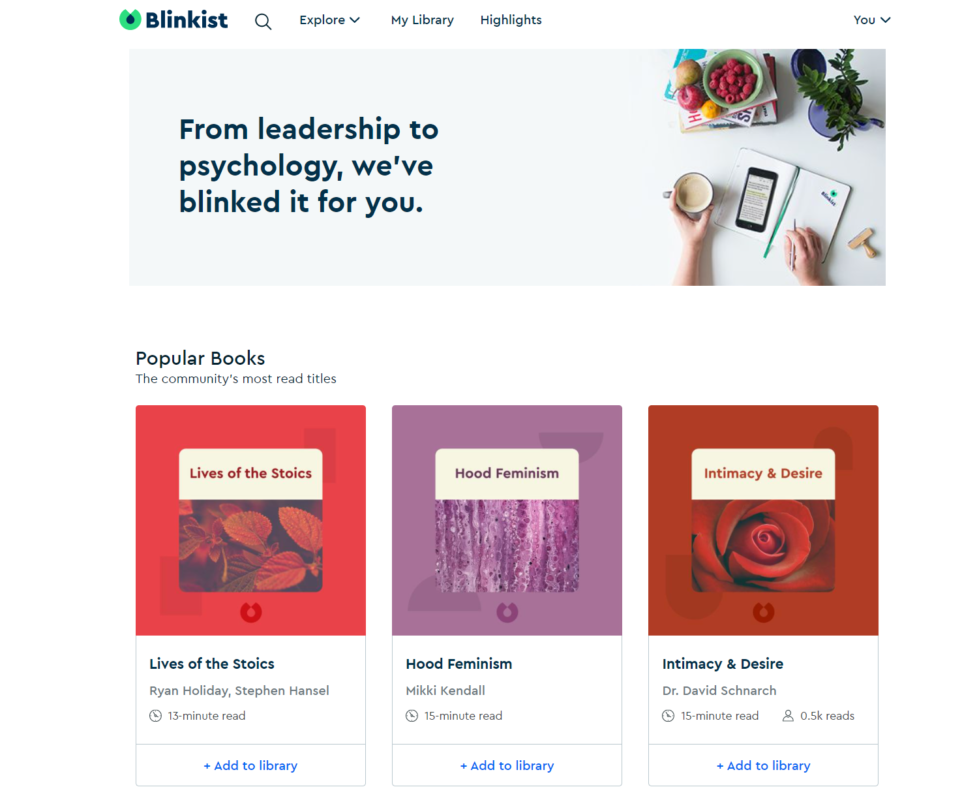 Why Blinkist?
"Blinkist" is an easy alternative to reading a book that would take hours or days. It helps aid in choosing a book you may want to read but would like to review before you make a purchase.
It also helps when you want to read but feel like you do not have a lot of time to read.
You get the "meat and potatoes" of a book in just 15-20 minutes.  And you may feel like you learned something when you are done with a "Blink."
The Price
When you download Blinkist, you get a 7-day trial to check it out to see if you like it or not.
After that 7-day period, you have the choice to continue as a member at a cost of approximately $99 annually or $15.99 per month.  You can choose to discontinue your use of the app if you do not like it.
Is Blinkist Worth the Price?
Is Blinkist worth the price?  In my opinion, yes!
If you are not one to read a lot of non-fiction-type books like me this is especially worth checking into.  Blinkist gives you the option to read books that you normally would not pick out to read.
When reading non-fiction, you are gaining knowledge and ideas that you would not gain from reading fiction all the time.
So, yes, I believe Blinkist is worth the price.
How many non-fiction books would you typically read in a year or even one month?
If you read one or two then you may decide Blinkist is not for you but if you read several a year, Blinkist is worth having so that you can filter out the books you may not be as interested in or want to purchase and then never read.   Been there, done that.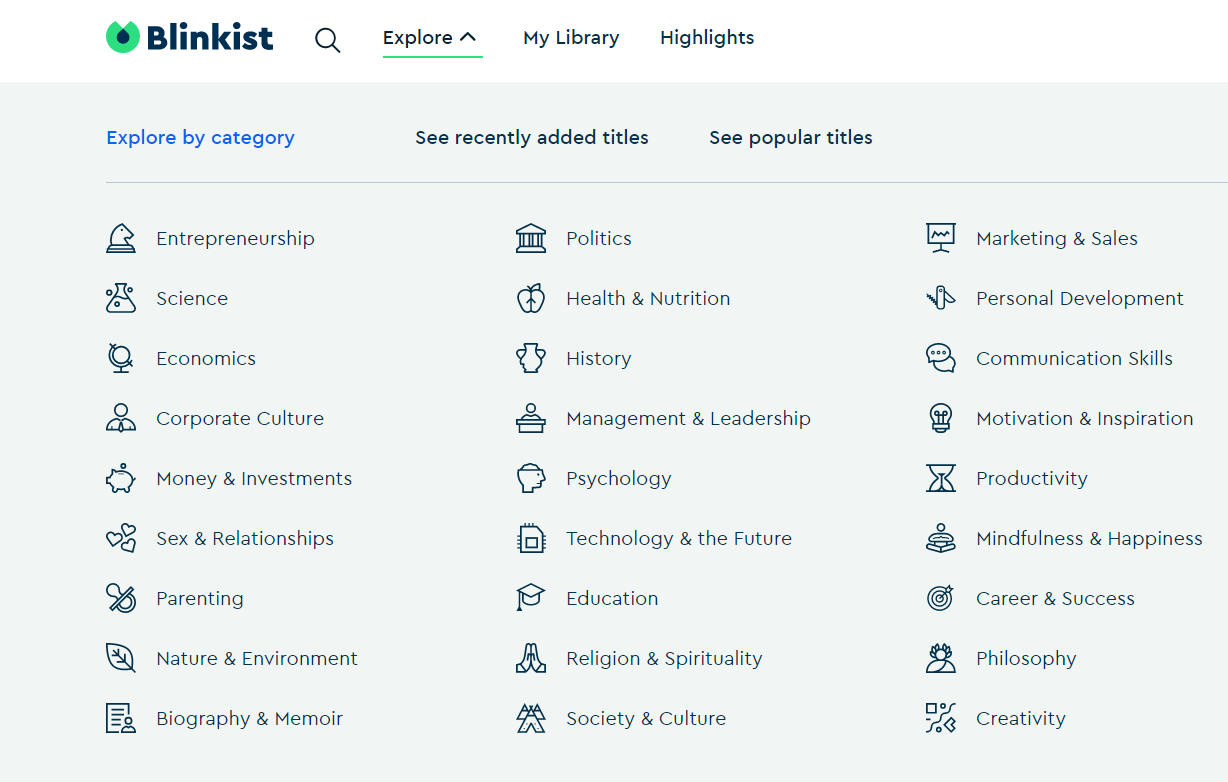 Blinkist Categories
There are hundreds of titles to read in just about every category you can think of such as parenting, relationships, creativity, politics, entrepreneurship, motivation, and inspiration, just to name a few.
Depending on which device you are on there are different ways to search these categories.
If you are on a device like an Android, iPad, or iPhone your search options are going to be as simple as going into the Blinkist app and hitting the explore icon on the bottom of your screen.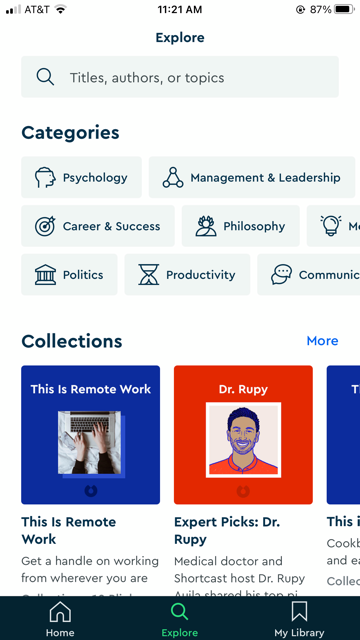 You can search for a blink from the search bar, or go down to the categories, collections, or catalog sections to choose a blink.
To search these categories from your computer, you sign in to your Blinkist account.  From there you go to the navigation bar at the top and hit "Explore." There you will find at least 27 different categories with hundreds of blinks in each category.
The second option is the "recently added titles" where you will find hundreds of books that are added each week.
The third search option is the "popular titles" where you will find all the most popular topics that are being read.
Blinkist Amenities
Blinkist not only offers a way to read short summaries of a book in 15-20 minutes but also offers other amenities such as Audiobooks, Blinkist Magazine, and Shortcasts.
Choosing Audiobooks allows you to purchase and download a book you are interested in but would rather listen to than reading.
Sometimes people like this option because they are busy commuting to work, working out at the gym, cleaning their home, or even working at the office and can easily listen to a book.
"Blinkist Magazine" is another amenity I find interesting.  It offers hundreds of articles related to topics such as work and success, mind and body, society and culture, as well as Blinkist booklists and Blinkist News.  I have only found the Blinkist Magazine available on the computer.
New to Blinkist is "Shortcasts."  Shortcasts, according to Blinkist Magazine, is "a short version of a podcast episode crafted around key ideas." There are currently topics such as, "Beyond the To-Do List," "Simply," "The Doctor's Kitchen," and "The Happiness Lab," which all sound interesting.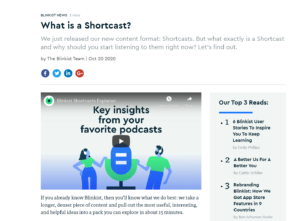 Why I Enjoy Blinkist?
My husband stumbled upon Blinkist a couple of years ago and he really liked it.  He shared it with me because he thought I would like it too. He was correct. I have been a member now for almost two years.
I enjoy Blinkist because I can read a variety of categories without having to buy hundreds of books.  If there is a "blink" I enjoy I sometimes decide to purchase and read the whole book.
There are times when I get tired of reading books in the same genre and I want to take a short break.
Blinkist gives me a break away from historical fiction, which is my favorite genre, and a chance to read an inspirational book or something motivating.  And I have read plenty that I have enjoyed and learned something from.
I have read over a hundred Blinks and still going.  I have purchased several of the books that I started as a blink because I was interested in the topic and I wanted to know more about them.
It is also nice to have something short to read when you do not want to get deep into a novel or longer story.
You can go to your Blinkist app and type in the name of a book you are interested in in the search bar or go to the categories list and find a blink that way.
I love how Blinkist keeps up with all the books I have also.  I can go to my library anytime to see the blinks I've read and I can go back to any blink and review the key points or the final summary of that blink.
With Blinkist you can stay on the go and still learn and enjoy reading even when you think you do not have time to do so.