Homeschooling can be a very rewarding thing for parents.  There are so many reasons parents choose to homeschool their children.  When we decided to homeschool our children, our daughter was going into the ninth grade and our son into the seventh grade.   It was exciting and scary at the same time.  We were looking forward to having our kids at home more, being the ones who had more influence on them, being able to structure their schedule around ours and being more active.
We began to do our research and talked about it extensively.  And for those of you who believe in praying about your decisions, you will understand that we also prayed about it.   When we made the decision to homeschool, our kids were excited about the idea too.  Things were going to change though, and we hoped they'd change for the best.
Our daughter had been a cheerleader in middle school and had already tried out and made the cheerleading squad for her freshman year.   Our son had played peewee football for 2-3 years and was moving to a middle school that did not have a football program.  While these were concerns that we had, nothing was more important to us than the fact that our son had been in a program in school to help students who had learning difficulties.  He had been in the program for three years and we really had seen very little improvement.  We really believed we could do no worse.
What is Your Motivation to Homeschool?
Before you choose to homeschool, there are a few things you need to consider.  First and foremost is your why.  Why do you want to homeschool?  Are there valid reasons you would like to homeschool your children, or you just want to do it because you know other people who are doing so?  You will need to have a strong desire to succeed and to help your children.  I don't say this to discourage you but only to help you.  There are going to be rough patches along the way that may discourage you.  There will be days when you want to give up, you feel overwhelmed or things aren't going the way you thought they would.  Your strong desires and motivation will get you through those rough patches.
How to Get Started with Homeschooling
Now, you have made the decision to homeschool.  How do you get started?  There are a few things you need to do:
Contact Your Local School District –
Before you get started homeschooling you will need to contact your local school district to find out what type of rules or regulations your district has concerning homeschooling.  Although it has become more widely accepted, there may be states or local areas where it is not accepted, or the rules may be very strict.  You will have to decide if the rules are worth the effort you will put into homeschooling your kids.
When we homeschooled, we lived in Georgia (and later in Alaska).  Each state has its own set of rules.  There were a few rules to follow regarding attendance, record keeping, curriculum, and testing.  In Georgia, we just had to choose our curriculum and keep attendance every day.  I had to send in a monthly report of attendance to the school district.  At the end of the year, we had to report the kid's subjects and their grades.  In Alaska, we just had to turn in test scores.  Things may have changed some since we homeschooled our kids, so again, check with the school district you are in to find out.
The next thing you will need to do is choose the curriculum you will be using.  There are hundreds of publishers who provide homeschool materials.  It will be difficult to determine what to use without doing some research.  First, decide what subjects you'd like to teach.  This is determined by the age of your children but there may be some that you can combine with multiple ages.  There are several ways to find the curriculum:
Online research
Online research can be very helpful.  You may not end up purchasing anything, but you can get a good idea of what is out there.  You'll find hundreds of curriculum providers.  You can search for the subject matter, prices, and what is age-appropriate.
Reviews
You can find many reviews online.  Look at 2-3 different programs that you are interested in and compare.  Reviews can be very helpful.  People will write what they like about a program and what they dislike about it.  They will tell their readers if they would recommend a program or not.  Other parents will write about what has been successful or not also. There are a lot of things to glean from a review.
Ask for Recommendations
Find someone who is currently homeschooling or ask a friend or family member if they have recommendations.  If they are currently homeschooling, they may be able to point you in the right direction.  In some areas, there are homeschool networks or groups.  If you make a connection with a group or network, you will get some good recommendations from parents who have gone before you.
Attend homeschool fairs
One of my favorite things to do when we were homeschooling was to attend the local homeschool fair.  Publishers from all over the country would set up at our local convention center for several days and you could walk through and look at all the different programs, talk with the representatives and in some cases speak with other parents.  It was a great experience.  One word of caution here: be selective and be cognizant of what you are spending.  It is very easy to spend a lot of money real-quick if you are not careful and you don't need to do so.  There are just so many different programs and books that you'll want them all.
Although you've decided to homeschool and will have a lot of flexibility, you will still need to design or set a schedule.  You will need to be disciplined.  It is very easy to fall into a routine of sleeping too late or not getting schoolwork done.  Just because you have a schedule doesn't mean you have to be so strict that you and your family can't have fun but be aware that it's very easy to get behind without some type of schedule.  You still have to be accountable and this will set a good example for your kids.
Choose Social Outlets and Activities
How will your kids be socialized?  This is the question I heard the most when we decided to start homeschooling.  I heard it from everyone – friends, family, etc.  We weren't too concerned with this because we were involved in church, youth groups and we had other friends who homeschooled.  If you are as fortunate as we were and live in a community that was widely accepting of homeschooling, you may have a local network or group that you will be associated with.
When we began homeschooling, we were introduced to other families who homeschooled and then were introduced to a huge network of homeschooling families and New Creations Center.  This network provided an outlet for our kids to participate in sports, higher learning, and relationships.  Through this group, we were introduced to another group called Master's Academy which offered arts, theater, and social studies.  Our kids were never in danger of being under-socialized.  Our daughter played volleyball and was a cheerleader.  Our son played basketball and ran cross-country and track.  They both took a couple of classes at NCC when there was something that I had difficulty with, like Algebra and they had a lot of friends.  Our daughter graduated and participated in a graduation ceremony and received her diploma.  There was nothing we were missing.
When we moved to Alaska, our son was still in high school. We had to research and find out what to do about homeschooling here.  We found out that Alaska was even more open to homeschooling.  There were small groups here and the kids who homeschooled could participate in sports through the school district.  We just had to register our son in the school district we were in and he ran cross-country.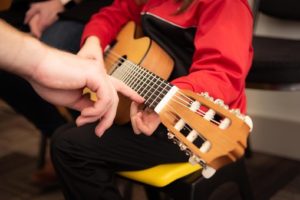 When considering whether to homeschool or not, check to see what the local school district offers.  In Georgia, at the time, there were no alternatives for sports or other activities.  It wasn't until we were introduced to the homeschool network that our kids were able to participate in sports. As stated above, here in Alaska you just had to register your kids in the district they were in and they could participate in sports.
There are many outlets for your kids to be entertained (or socialized).  When we began homeschooling, we wanted music to be part of our curriculum.  Our daughter took piano lessons (and is a piano teacher today) and our son took drum lessons.  We were involved in our church youth group and other activities at church.  We also enrolled our kids with Master's Academy where we attended once a week social studies, art, and theater classes.
We weren't concerned about our kids being socialized.  They had more friends homeschooling than they would have had in traditional school.  Our only problem became having enough time to get all their schoolwork done.  We were on the go much of the time.
We had a great time and enjoyed homeschooling our kids.  We are very proud of the adults they have grown to be.
Before you choose to homeschool you definitely want to do your research, contact your local school district to find out as much information as you can, check with the school district to find out what rules or restrictions there may be, and find out what types of activities your kids can be involved with.  You will need to lay down a few ground rules from the beginning and be disciplined, but most of all have fun and enjoy your time with the kids.  They grow up way too fast and you as a parent only get a short time to make a difference in their lives.
Pin for Later or Share!